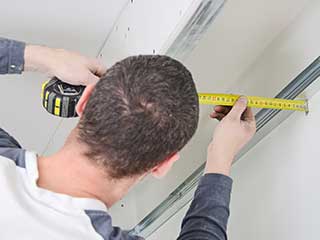 With Drywall Repair & Remodeling Simi Valley you're covered when it comes to a broad range of drywall ceiling repairs. The service you receive from us will leave you wondering where the repair was even done! All of our repairs, replacements, and installations are done to following the industry procedures, in a prompt and seamless manner that won't create any mess or set you back for a ridiculous amount of money.
Patching Up Holes & Cracks
No repair job is too big or small for us - from smaller holes that only need filling, sanding and painting to larger cracks which pose a danger to your household, you have a peace of mind knowing we'll do the job right, at our first attempt. We employ only the best of the best, and so your satisfaction is guaranteed on every call.
Our Thorough Process
We'll carefully inspect the scope of the damage, measure the hole, cracks, and dents, before cutting the drywall to fit in the area. Then we'll apply mud around the edges of the hole and implement the patch before sanding it down with our electric sander to create an even surface when everything is dried up. Overall, this type of repair doesn't require plenty of time or specialized knowledge. We'll complete the work in no time at a favorable rate which is unbeatable by our competition.
Replacing Old Ceilings With New
We never rip out your ceiling unless it's absolutely necessary. If your ceiling has suffered from moisture, water damage, mold, or extensive structural damage, a complete replacement might be the only way forward. Count on us to make sure the installation is carried our thoroughly, smoothly, and professionally.
Ceiling Painting & Finishes
The final steps of ceiling repair (or replacement) are painting and finishing. Only when even the tiniest of holes has been patched will we get to work and apply coats of paint which will give your ceiling a nice, finished, look.
A new ceiling can work wonders on the interior atmosphere. Let us know if you need any work done, and give us a call today!
Our team can also take care of:

Plaster Ceiling Repair

Drywall With Foil Backing

Drywall For Garage

Tile Installation In Shower