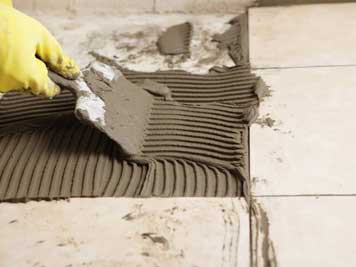 The beauty of tiles, porcelain or ceramic, can give any room a décor enhancement. Decorative tiles offer an aesthetic addition that doesn't take any space but can transform a room from drab to delightful. And with minimal effort on your part too. Our local Simi Valley tile installation and remodeling contractors know how to lay tiling down aesthetically and with maximum adhesiveness. Our custom tiling services can help you create beautiful and functional tiled surface areas in kitchens, bathrooms, and even outdoors!
Waterproof Bathroom Tiles
Whether you need new tiles for showers or to resurface the bathroom floor and/or walls, we can help. The quality of bathroom tiles matters just as much, if not more than their aesthetics. The tiles in the bathroom serve more than a decorative role. They help protect the walls from moisture damage, creating an insulating buffer between splashing water and drywall, plaster, and other wall building materials. When installing tiles, grouts need to have proper sealing to ensure no moisture seeps through. Our tile installers have more than a decade of experience tiling Simi Valley bathrooms correctly. We're happy to meet with you for a free estimate on bathroom tile remodel jobs and more.
Wall Tiles For Simi Valley Kitchens
The aesthetic of decorative kitchen tiles can give this area a welcoming and inspiring vibe. But here, the same as with bathrooms, the installed floor and wall tiles also have another role. Kitchens and other food preparation stations can often result in various splashes of water, oil, and other liquids. That's fine when working on marble and granite countertops. But what about the surrounding walls? Well, when we install kitchen wall tiles in your Simi Valley home (or office space), you can enjoy better protection with waterproof tiling. Tiles on kitchen walls serve as barriers for moisture with very easy cleaning procedures. That way, you can make a mess on your way to culinary greatness, without worrying about the hassle of cleaning. Washing and removing food stains off kitchen tiles we install will always prove easy and quick.
Ceramic and Porcelain Tiling
These two types of tiles make for two of the most popular options by a long shot. They each offer different advantages which makes them better for certain applications. Porcelain tiles, for example, have much more hardwearing properties. This makes them great as outdoor tiling, as they have increased durability and moisture resistance. Ceramic tiles offer less permanence, but they are far easier to install. The tile shades also vary. With porcelain, you get the natural pearly white hue which is highly aesthetic. With ceramic tiles, you get an earthy red that can add to classic and homey elegance. Of course, you can stain porcelain and ceramic tiles in various colors and patterns, including arabesque tile designs, gothic, and solid colors. When you need new tiles for a Simi Valley property, turn to us for a free quote and expert consultation.
Laminate – Floating Wood Tiles
As far as decorative tiling goes, wood-like slates can give a décor boost. These laminate tiles mimic the appearance of wood. They flaunt the rich texture design and colors of real timber. However, this isn't wood. It's still wall/floor tiles! That means no expensive upkeep that real wood demands. We can install entire laminate floors in condos, office spaces, and other properties. Thus, we can simulate the rich look of wood without the hefty price tag and high maintenance demands. Arrange for a free estimate on tile installation for your Simi Valley residence or business today!
A well-carried out tiling job can not only add value to your home but can also make rooms appear larger in size. That's why tiles are becoming an integral part of more and more kitchens, bathrooms and bedrooms, across the country. What's more, the ever-growing choice in styling and material of tiles make them one of the easiest ways to modify and beautify your home. Drywall Repair & Remodeling Simi Valley is here for all your tiling needs, whether you need to tile your worktop or lay tiles over the complete room drywall.
Neat, Prompt, and Affordable Installations
We're here whether you're looking to utilize drywall, tiles, or a combination of both in your bathroom. Also, our consultants are ready to help you with whatever concerns and questions you may have regarding design, styling, and budget.
Drywall vs Tiles
When it comes to your bathroom walls, we can either install drywall or tiles, or even a combination of both. Here are the benefits of each material.
• Tiles: These are easily maintained and great at keeping the moisture away which drastically reduces the risk of mold and mildew growth. Moreover, tiles are a great way of personalizing and modifying the design to match the exact vision you had of your bathroom decor.
• Drywall: This option is easy to paint and modify if you want to upgrade it with hanging shelves, cabinets, mirrors, etc. However, this material is much more prone to mold and mildew and can get damaged more easily. Finally, it may be lacking the luxurious appeal with a nice set of tiles.
Your Team of Experts
Whatever your tile installation needs are, we are here to step in and do the heavy work for you. Turn to us with confidence knowing no tiling job is too small or big for us - our team of professionals is highly experienced, trained, and properly equipped to tackle even the most complicated of projects. Whenever you hire our team you can expect nothing short of beautiful results! Contact us today for more information!
Need more? We also provide:
Kitchen Tile Installation
Basement Ceiling Drywall Repair
Drywall With Insulation
Asbestos Popcorn Ceiling Removal