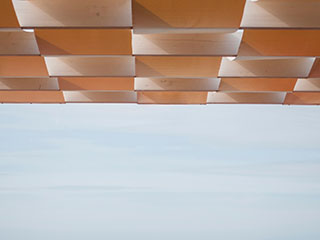 Choosing covers for your Simi Valley patio or an outdoor deck area can offer you more than aesthetic improvements. New patio covers, custom made for the designated area, provide proper shade throughout the day and protect your eyes and skin from harsh sunlight. Freestanding patio covers offer an easily portable shade, but with less stability and versatile design options, other deck and patio covers can provide. With deck roofs, outdoor canopies, and all sorts of other types of patio covers available for you to choose from, you can get maximum aesthetics with utility. A leading Simi Valley patio cover installation team, we give customers free estimates on all types of roofs, outdoor canopies, and motorized covers for patios, decks, pergolas, and more. Each has its pros and cons making it great for all sorts of uses.
Hard Patio Covers
A rigid cover over your decking or the hardscape patio does more than provide shade. With attached roofs and patio covers, you also contribute to the décor of the outdoor space. Slate deck roofs and custom-built wooden patio covers can create a very distinct aesthetic. This elevates the décor of your Simi Valley patio, as well as increase the resale value of the property. Naturally, built-in patio roofs and wooden deck covers will not allow for adjustability. They'll withstand harsh weather better than outdoor canopies, but repairs will prove more expensive and complex. Aluminum patio covers can also provide ample protection. However, they'll be more prone to dent if your patio is built under tall trees with branches or acorns constantly falling down. Aluminum patio covers also produce more noise when things fall on them or when cats decide to take a little stroll on top.
Wooden Deck Roof Custom-Built
An attached cover for decking and patios, wooden roofs can also suit pergolas and gazebos. This type of wood patio cover provides a strong and rigid roof overhead. The shade will stay consistent throughout the day, and the wooden deck roof will also protect from other elements. Of course, as is the case with wood, patio covers made from timber need to undergo regular maintenance. Coats of paint and varnish will help keep your wooden patio or deck roof in top shape. As it goes, wood patio cover repairs can cost more than they would for outdoor canopies and alike. But the aesthetic addition makes this an acceptable trade for many people.
Motorized Patio Covers – Simi Valley Installers
From the most technologically advanced shading solution for patio covers, motorized outdoor canopies will serve you very well. Motorized patio covers with remote controls give your Simi Valley backyard (or other areas) an effective and quick way to add or reduce shade. With smart Somfy motors and controls, our motorized patio covers can add all sorts of efficiency features too. From wired to battery-powered to motorized patio covers with solar power sources – all these options make for a very versatile range of options. The canopy you choose for your electric patio cover can sport all sorts of designs as well. This means a diverse range of aesthetics that you can customize to suit your taste.
Outdoor Canopies & Shades
For lighter patio cover options, consider a variety of shade sails and canopies for outdoors. These will provide adequate shade for the patio and decking, with all sorts of designs and colors to pick from. From motorized awnings and outdoor canopies to patio umbrellas with concrete bases or other softer solutions. We craft custom made patio covers from a huge variety of materials. And the list of different patio cover design ideas we can bring to you has something for every customer. For the best custom-built patio covers for Simi Valley area residences and commercial spaces, turn to our local team. We'll provide you with a free estimate and consultation to cover all the bases. Set up an appointment today to get started (with no obligation!).