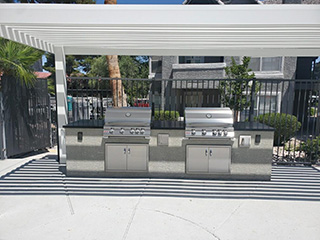 You'll find that one can get a lot more out of your backyard deck or sectioned patio area than just a lounging spot. A patio with an outdoor kitchen custom-built for it provides a world of possibilities. You can store dry goods and tableware outside using outdoor kitchen cabinets, saving you time when you need to set a table or prepare food. And you'll want to cook outside as well, wouldn't you? Well, a custom outdoor kitchen with a BBQ island and grill station will provide all the features you need to do that. Transport all food preparation and cooking outside with a patio kitchen that provides all the necessities. Then, enjoy the dining experience outdoors with outdoor furniture and tabletops. Not sure where to start? How about a free consultation? As Simi Valley's top outdoor kitchen builders, we're happy to help you with every step, including designs.
BBQ Island With Grill Station
The most favorite part of outdoor kitchens for many of our customers is the cooking area. A BBQ island provides a combination of countertop and grill setup, which can also flaunt stoves and pan setups. You can have a spot to prepare food, chop onions, veggies, and slice meat, and right next to it, a grill or other utilities to cook said food with. A brick BBQ island for your Simi Valley outdoor patio kitchen becomes more than a functional feature. Paver BBQ island décor also brings out an aesthetic that blends with the rest of your hardscape design. And it's the same with decks! Add a BBQ island to your outdoor deck kitchen and you can create the welcoming ambiance of log cabins, only outdoors!
Kitchen Patio Cabinets Custom Built
Storage goes a long way, especially in kitchens. Outdoor or indoors doesn't matter, as storage spaces are important in both. Custom-built outdoor kitchen cabinets, therefore, add a great deal of convenience in your day to day use of this space. Use outdoor cabinets to store not only tableware and utensils and such but also dry goods. Condiments and spices can also stay in good condition inside your outdoor cabinets. This will save you needlessly traveling back inside your house to fetch things. The convenience of having cabinets as part of your outdoor kitchen setup will make the cooking and dining experience a lot more enjoyable and simple. Choose real wood for deck cabinets or composite materials with similar aesthetics minus the maintenance. Our Simi Valley contractors can accommodate any outdoor kitchen design idea you have.
Custom Outdoor Kitchens For Simi Valley Patios & More
If you reside in the nearby area, our professional contractors can help you remodel your backyard patio, deck, or other spaces in a variety of ways. We do more than exterior remodel jobs too. Use our highly skilled and experienced contractors to custom build an outdoor kitchen in your patio, complete with all the necessities you determine. From patio kitchen countertops and tables to cabinets, brick fire pits, and even outdoor heating. We specialize in crafting a full list of outdoor living features for Simi Valley homes. Talk to us to schedule a free estimate on any outdoor kitchen or other patio features you want.