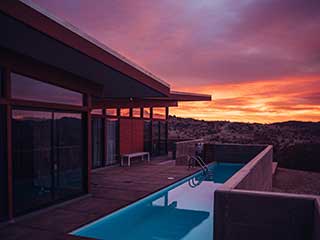 With decks for homes or businesses, composite is often the way to go. Don't get us wrong. Wood offers some great qualities too. But when compared to composite Trex decks, for example, timber doesn't stand a chance. The aesthetic has just as varied a range of textures, and you don't have to worry about protecting the deck boards all the time the way you do with wood. Custom-built decks from Trex let you utilize any design idea you have for your Simi Valley deck area. Only, you can do it at a far lesser cost, without compromising on quality or durability. Trex offers customers high quality at a very low cost, with a wealth of design options to pick and customize. And you can start without spending a dime, with a free in-person estimate.
Benefits of Trex Decks For Simi Valley Homes
The advantages of composite Trex decking made allow it to deliver excellent value at a very low cost. Trex is a form of composite material that mimics the textured look of wood but doesn't suffer from the same disadvantages. A Trex deck doesn't need constant treatment against moisture or pests the way a wooden one does. Trex decking stays strong and durable and can withstand physical damage to a significant degree. This, combined with a very affordable price tag, has made Trex decking and railings very sought after. The variety of designs makes for a lot of creative freedom too!
Above Ground Trex Pool Decks
For anything to do with high moisture environments, or literally splashing water, composite can offer a more long-lasting option than real wood. Trex decking for pools provides an excellent and durable platform. It will deal with the water without needing regular reapplication of protective coating. Trex decks for above ground pools in Simi Valley serve just as well. They withstand moisture with no issues and can have textured surfaces to allow for better grip and nonslip traction underfoot. Trex pool decks, above ground or surface level, need to have a bit of a rigid texture to ensure nobody slips if water pools around on the deck.
Custom Decks From Trex - Multi Levels
Whether we're talking small steps or big stairs, a custom-built deck with multi-levels has a very unique aesthetic. That means major curb appeal improvement when it comes to porches and lawns and other fronts of Simi Valley properties. Trex decks with levels flaunt that same beautiful look that's made the single level versions so popular. With the added steps, you create an elevated (no pun intended) appearance, that goes towards enhancing the look of the property. Multi-level decks with railings offer a truly elegant setup, great for backyards or property fronts.
Composite Decking Custom Built For You
Meet with a local Simi Valley Trex decking contractor near your area and get a free estimate on any shaded structure or platform. Our professionals have a wealth of knowledge to share, and all sorts of deck ideas for homes or businesses. With a free consultation from our local Trex deck builders, you'll have all the info you need to choose your new custom-built platform. Schedule a free quote appointment online or by calling directly.